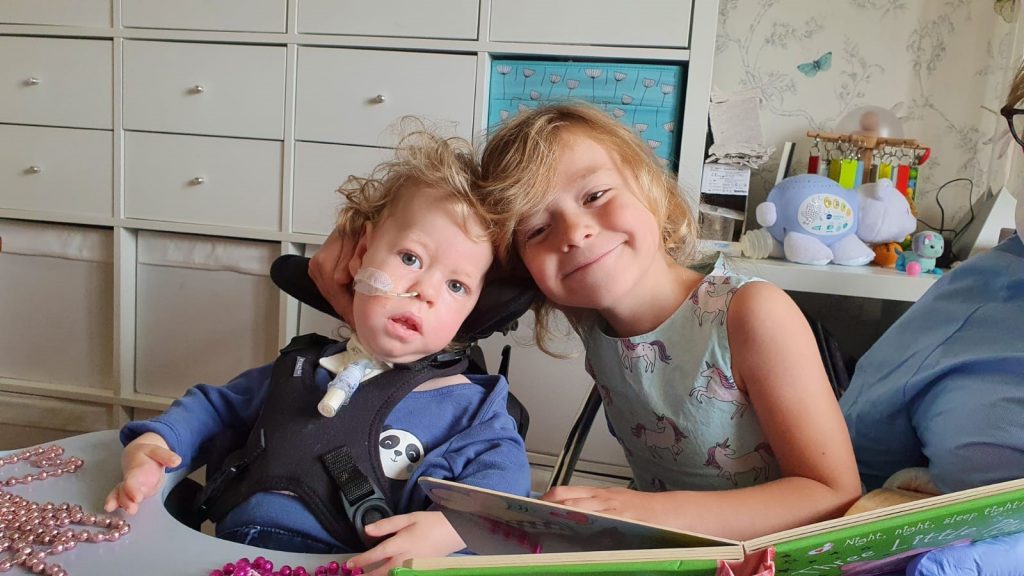 Finley was born with a very severe muscle weakness. He has a genetic condition which affects every muscle in his body. He remained on the Neonatal Incubation Unit (NICU) for 5 and a half months and eventually came home on a palliative route. He has one brother and seven sisters.
He is fully ventilated and immobile and although he has shown tiny improvements since coming home from hospital, he still requires complex 24/7 care from his family, carers and Jessie May nurses.
"It's 24/7 pressure on the family. He requires suctioning and ventilation although he is slowly spending more time off the vent," says Mum Annaleise.
The family started shielding in March 2020, which became more difficult as time went on: "It was very isolating and very difficult. Emotionally, it was a real a struggle. Especially for my older children who weren't able to see people that we rely on regularly. They missed their friends and school and normal life."
Overnight, the family's support network of friends were forced to step back from the usual help they provide to the family: "I missed the cups of tea and chat with friends. We really started to feel the impact quickly, we were under each other's feet. Everybody needs their own space at times."
The impact of isolation on the family was substantial but as Annaleise explains: "Lockdown didn't ease for us a family for long time. If you have a seriously ill child, it is like being in limbo. Everything is so uncertain. Still now more than ever."
Finley is immobile and has less movement than a new-born baby. "Jessie May come in for a couple of hours and this enables me to leave Finley and sleep or spend time with his siblings at the park, for example. It allows the kids to have some 'normal' time, just being children. Having a child with complex medical needs means that life changes forever. It's never as it was before. The pressure on the other children is huge. They give up a lot for Finley."
Annaleise says that with the Covid-19 pandemic, Jessie May's support has meant more than ever: "They have helped to support emotionally as well as caring for Finley's medical needs. Charlotte, my daughter, waits at the door for them to arrive. The whole family love it when they are here."
The visits from Jessie May enable Mum Annaleise to have a few hours rest as she is up through the night caring for her son: "They provide expert care and they give us the security that he is being so well cared for. They really are an extension to our family. They are a breath of fresh air when they arrive. They are amazing people. I would be completely lost without them. Jessie May provide a lifeline to my family."